Every woman needs a few great black suits in her wardrobe. While it may seem daunting at first, there are unique styles and silhouettes that fit every woman's body, no matter the season. A fabulous black suit can be dressed up or down for the occasion, but one thing is always the same: it must be chic and comfortable.
Whether it's a serious power statement to help you feel strong and confident, or you want to feel polished and feminine throughout your workday, there is a perfect outfit in here for you.
Here are 5 different ways Suzi styles her suit to fit her fashion style...
---
1. Casual with a regal flare
Wearing a timeless suit means that it has to be versatile enough to bring you from formal to casual by changing just a few different accessories. By combining the softness of a Suzi Roher tee and the Love Difference scarf, this black suit is elevated with purple undertones to bring out the warmth of any skin tone.
This look is perfect for a Zoom meeting because of its extremely roomy and breezy pants, coupled with a staple belt and stunning scarf.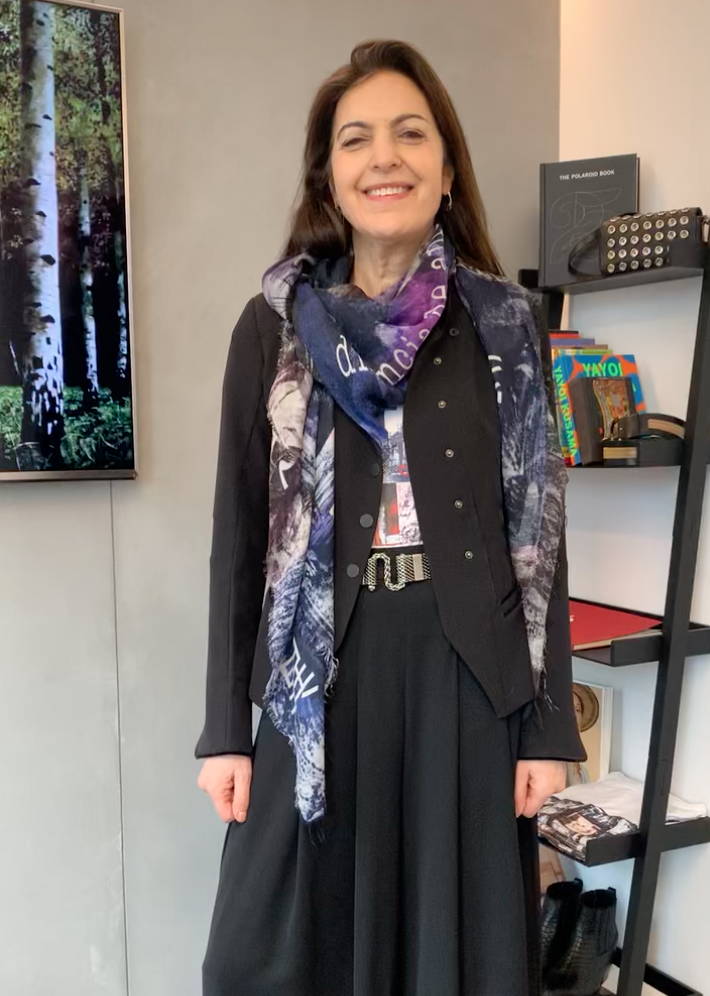 ---
2. Luxuriously coordinated with burgundy
Bring out some bold colour with an outfit certain to make you fall in love with clothes again. Combine rich burgundy reds with a contrasting black suit to create a show stopping elegance.
Suzi is combining a crimson top with a beautiful billowing sleeve detail with her BACI scarf to transform the outfit depending on if she is hot or cold.
Style tip: Especially during transition seasons, always remember to layer up so you can adjust to different temperatures as seasons change!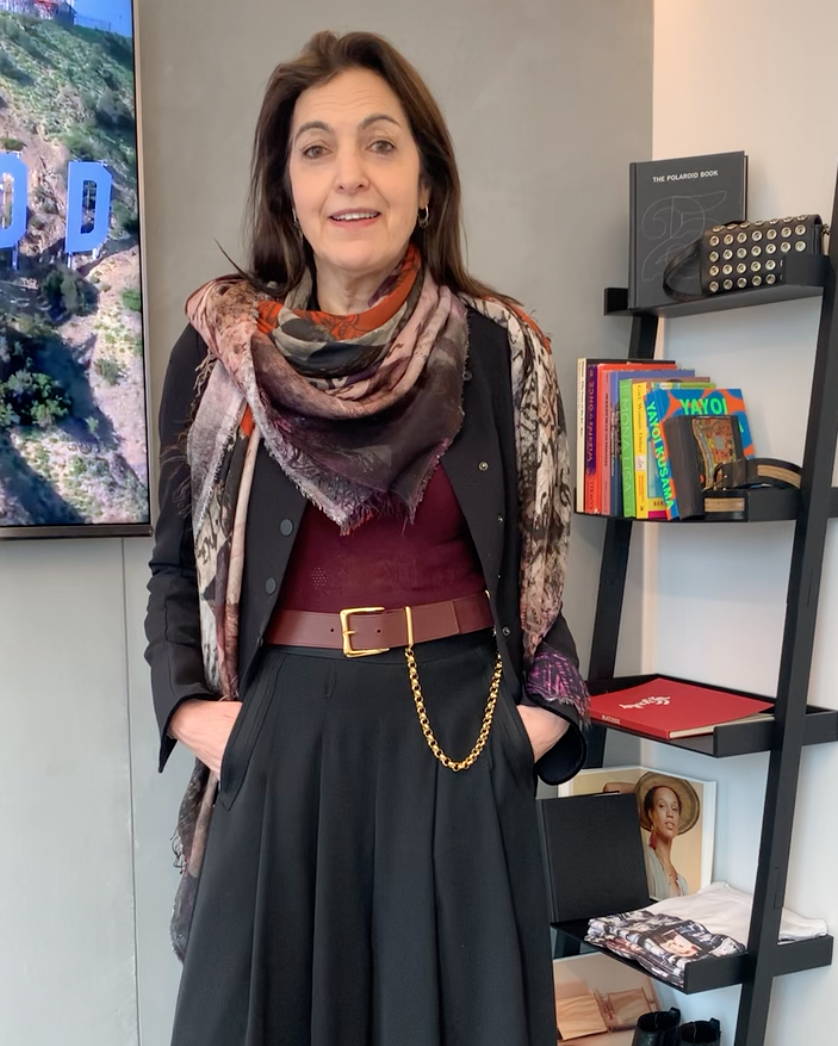 ---
3. Suit Classics Untucked
By wearing her suit jacket with rolled sleeves, and Suzi Roher t-shirt untucked, Suzi has taken her classic suit into a more casual everyday look. For a touch of femininity Suzi has added a soft chain belt over her tee to give definition to her waist. The matching scarf and tee with cool greens and soft blues create a softness to the overall aesthetic.
With the right pieces, you'll never feel restricted in your outfit as you tackle everything the day has in store.
---
4. Empowered Business Formal
Pops of colour and a strong silhouette make this outfit perfect for days when you just need to power through.
Feel fabulous with an eye-catching statement belt that says "I'm powerful and strong." This boost of confidence is paired with the Love Bug scarf to add dimension and colour to this monochromatic outfit.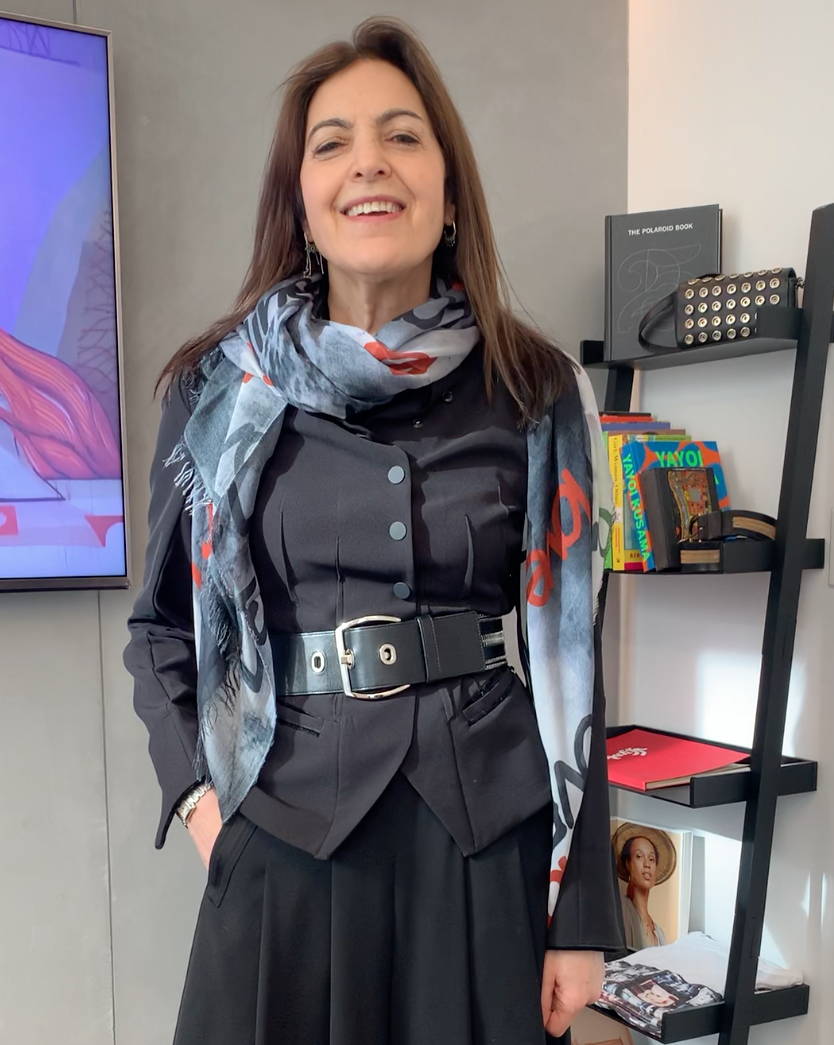 ---
5. Edgy with Bright Boldness
Whoever said black was boring didn't know how to put the right outfit together. Check out all the fantastic details in Suzi's outfit! Zippers, texture, fabrics and bold silver details all make this ensemble pop with style and personality.
Matching up a variety of black underpinnings allows for the vibrant colours of the scarf to truly explode with brilliance, all while still maintaining a timeless suit look.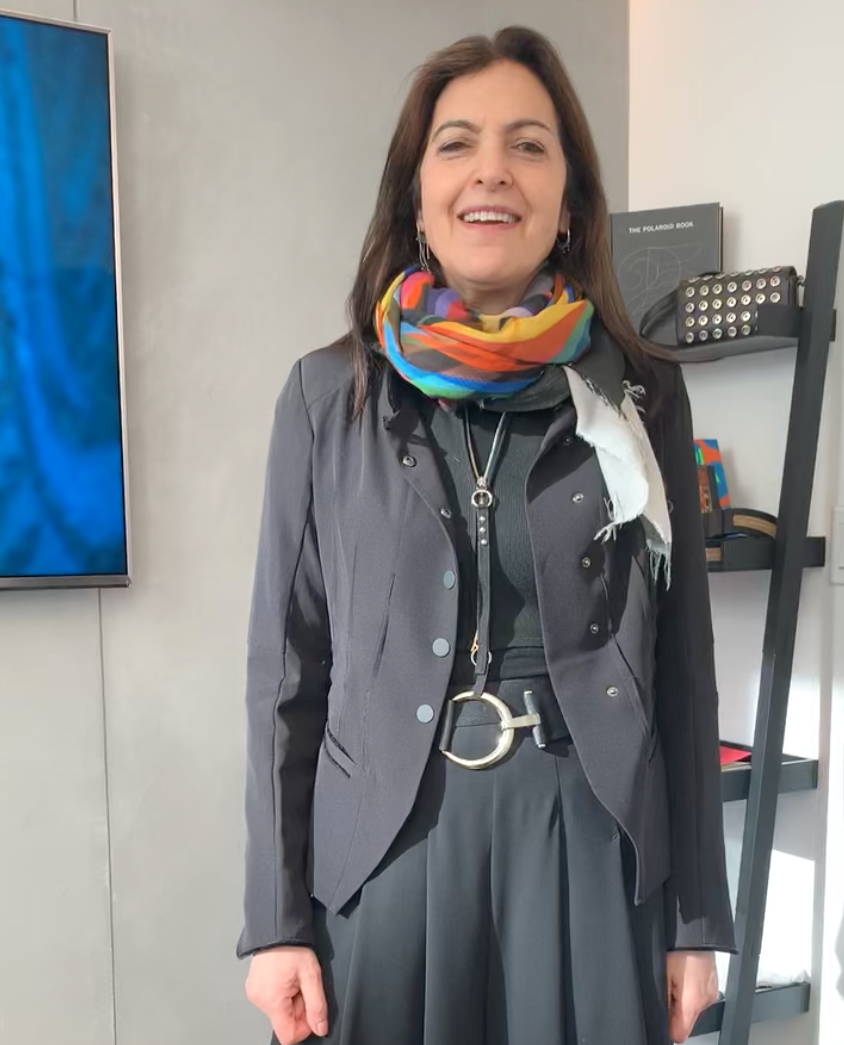 ---
No matter how you wear it, every woman deserves to feel luxurious in the clothes she wears. A black suit is an iconic must-have in a woman's closet, ready to bring out for casual and formal events. As always, fashion and comfort can exist at the same time with the right pieces.
We would love to give you styling help to elevate your look. Check out our free personal styling services.